Eric Montoya's official web site for the art and news
Day at the Dinosaur Zoo childrens book now available on Amazon.
Day at the Dinosaur Zoo is the adventure of two kids who visit their father at work and discover, through imagination, that all the construction equipment has become dinosaurs. They learn what each machine's role is while learning about the various dinosaurs from a past age.
Written and Illustrated by Eric Montoya along with Mark Ball whose beautiful daughter Jasmine was the inspiration for this work.
Purchase a copy through Amazon.
To find out more go to the Day at the Dinosaur Zoo web page.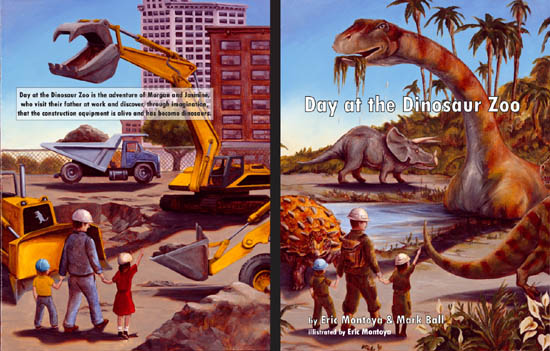 September 25, 2012 - January 27, 201 - Magnolias on display at the McNay Art Museum as part of the Estampas De La Raza exibition
This survey of Mexican American and Latino printmakers chronicles the late 1960s at the outset of the Chicano Movement to the confident expressions of the 2000s. Estampas de la Raza introduces recent gifts to the McNay from San Antonio collectors Harriett and Ricardo Romo.
Completed December 2011 – Limei (Beautiful Cherry Blossom)
The painting Limei has been finished posted to the Perennial Beauty gallery.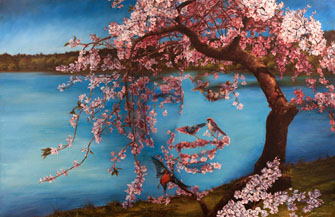 Coming early 2012 new literary and arts magazine Belletriste Coterie
"A new and innovative literary magazine for wayward raconteurs, quixotic belletrists, and gypsy storytellers... as well as those who love to be entertained, amazed, and inspired by them." http://belletristcoterie.com/pages/home
March 2011 – Auburn City Hall Gallery presents "Memior Americana"
Excerpt from Auburn City Hall Gallery Show cataloge "Memoir Americana Series are presented as memory-scapes - expressing his personal view on what it means to be part of the American fabric..."
August 2010 – ArtsWest Playhouse & Gallery presents new gallery exibition "Tenuous Truths" August 22 - October 2, 2010
ArtsWest Gallery presents the exhibition Tenuous Truths. Artists Piper O'Neill, Eric Montoya, Yun H. Chang, Rajiv Kapoor, and Jessica Plumb explore the cultural fabric that makes up the expanding culture in our Information Age and provide an authentic look at the sometimes awkward and solitary experience of contemporary life. Show will feature works from Eric Montoya's "Memoir Americana" series
Artist Reception: Thursday, September 9th, 6-7:30pm
ArtsWest Playhouse and Gallery 4711
California Avenue SW
Seattle, WA 98116
www.artswest.org (206) 938-0339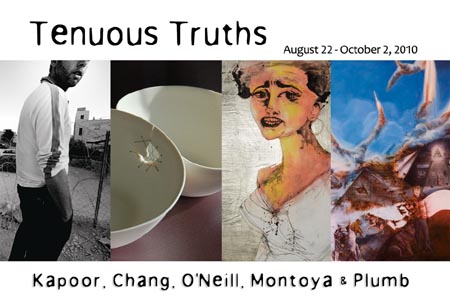 April 2010 – Memoir Americana - Boy Scouts
The painting Boy Scouts has been finished images and images have been posted.
Quick blurb: This painting deals with the line between man and boy. The desire to play at each other's games while through time both age and youth slowly dissolve and blur into the landscape.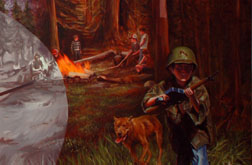 January 2010 – Memoir Americana - Rise and Fall
The painting Rise and Fall has been finished, and although I still need to have it properly photographed, images have been posted. Also a short video that uses Rise and Fall as a backdrop has also been posted.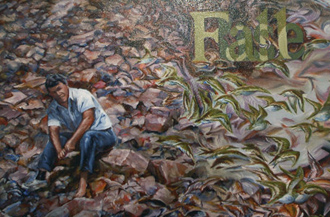 detail from the painting "Rise & Fall"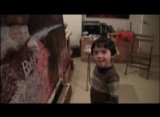 Short video where Truce discusses the painting "Rise & Fall"
November 2009 – Memoir Americana
I'm proud to place images of the first three paintings in the series "Memoir Americana". To read more in regards to this new exciting series, which I will be expanding and learning from over the next 10 years or more, please go to the series statement.
Detail from Memoir Americana - Atomic Winter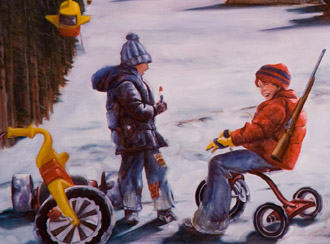 October 2009 – All Saints Day group show
October 31st through November 12 I will be taking part in an All Saints Day benift art show at The Saints Gallery in Seattle.
Saints Gallery @ Capital Hill Presbyterian
1729 Harvard Ave. Seattle
Artist Reception - Sunday, November 1: 5-8 pm
August 2009 – Wedsite updated to include new series "Tenuous Nature of Desire"
Finally after completing this series late 2008 it's been photographed and now added to the gallery page.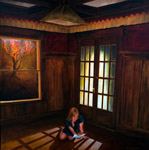 _"Tenuous Nature of Desire - Arrival"
In July I took part in the CRUSADERS & HATERS superheros and villains in American POP culture presented by Daniel Franzese at LA's Royal/T gallery (facebook page).
New painting Mike with da Fishes added.
August and September 2008 – Cannibal Flowers, Concrete Jungle and Music Shares Shows
Los Angeles is the place to be if you'd like to see the newest work. I've got work in multiple shows over the next few months.
Cannibal Flowers Show: Firehouse Gallery 8/30 – Features artist at this arts and music extravaganza. This is the eighth anniversary show for "Cannibal Flowers" and I was asked to create 8 new works for this show. On event night we will be releasing the "Wisteria" print (more info below). At the end of the event the Artwork will be move to the Grind Gallery in Venice Beach.
Concrete Jungle: Grind Gallery 8/23 – This is a very cool group show that I'll have two works in. The show revolves around the skate culture of DogTown and art that has grown out of this movement. Back in the 1986 I was asked by Skull Skates, the ultimate in cool skate decks, to design graphics for their skate boards.
MusicShares: Firehouse Gallery 10/18 - This group show will featured artwork was either created by a musician or inspired by music. Some of the musicians and artist included are: Slash, Mark Mothersbough, Daniel Johnston, Ron English, Shepard Fairey, Federico Archuleta, etc. Twenty percent of all art sales will be donated to MusiCares, a non-profit organization that provides a safety net for persons in the music business who may find themselves in need of critical financial assistance.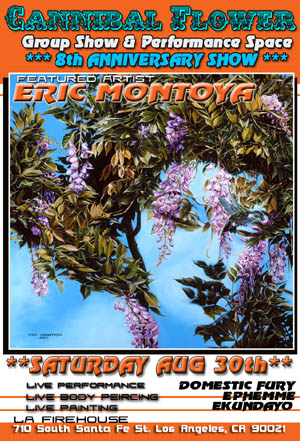 Newest paintings from 2008 are now on line in the Gallery Section for 2006-2008.
October 2007 - Second Solo Show at Brad Cooper Gallery
Starting September 29th and running through October 31st the Brad Cooper Gallery will present my "Flouting Visions" series which deals with my love of portraiture, nature and the subconscious.
The Brad Copper Gallery is located in historical district Ybor City within Tampa Florida. For more information visit www.bradcoopergallery.com.

July 2007 - Two art shows in the Seattle area and the addition of five new works to the site
Five new paintings have been added to the website, including a special commission for Roger Molson. This painting is composed of four canvases, each one the portrait of the women closest to him, his three daughters and wife. His concept was to have a work which was meaningful in his home but when the time came could be distributed to each of the women for their art collections and memories.

February 2007 - Mural at Snoose Junction & Masks created for Book-it Theater's production of Tale of Two Cities
Snoose Junction pizzeria opened 2007 in Seattle's Ballard neighborhood & is owned by my good friends Emily and Mark. In 2006 Ben Brian and I were asked to worked on the interior design and create site specific works of art for the restaurant that bridged the gap between Ballard's industrial past with its modern future as one of Seattle premiere neighborhoods. For more information go to www.snoosejunctionpizzeria.com
Book-it Repertory Theater's production of Tale of Two Cities opens Feb 9th and runs through March 4th. I had a small role helping bring this production to life, creating masks to represent the Aristocrats Marie Antoinette, Louie XVI, King George, Queen Charlotte and a couple carriage horses. Director Jane Jones integrates them into the play to marvelous effect and story telling. The masks are based on simple Victorian masks using canvas lined with felt and painted realistically on the front. The production of such a classic and poignant book is just fantastic. For more information on the show see www.book-it.org
November 2006 - Group show at Brad Cooper Gallery and March of the Nutcrackers
Brad Cooper Gallery 22nd Anniversary Exhibition "Abstract Generations" opens November 25th. Details http://www.bradcoopergallery.com/
For Downtown Seattle's March of the Nutcrackers I designed and painted two 6.5 foot Nutcrackers. First, sponsored by the Seattle Art Museum "so much depends" is based on William Carlos Williams poem of the same name. Ben Brian created the wheel barrow that rests on top and acts as a beckon to draw in viewers for further contemplation. Second and the winner of the People's Choice Awards is "Nut-Cracking the Da Vinci Code" which I think you'll find fairly straight forward.
October 2006 - 6 new paintings added to site, Nordstom's Love Now / El Amor Ahora show, DIFFA benefit painting
This year I've been working on a variety of artistic projects that are still in production but have limited me to six new works which have finally made it onto the site. Click the image to see the new work.
Nordstrom's hosts Love Now / El Amor Ahora, showcasing the diverse artwork of Hispanic artists. The show is on view at select Nordstrom stores and the online gallery through October 16th. To view the art, show locations and for more information click go to: http://about.nordstrom.com/promos/love-now/default.asp
Earlier this year I was asked to create a painting / centerfold / invitation for DIFFA (Design Industries Foundation Fighting Aids). The image is being used as a centerfold in October's issue of Seattle Magazine and will be auctioned off at the Party at the Mansion event (see link). http://diffa.org/events_seattle_mansion.htm
February 2006 - One Person Show at Brad Cooper Gallery opening on the 24th and 4 paintings at CODA Gallery New York. Also four new painting added to the site.
My "NATURE'S SEDUCTION'S" show opens February 24th and runs through April 8th at the Brad Cooper Gallery in Tampa Florida's historical district Ybor City. Click here for more information regarding the Brad Cooper Gallery and press release.
Also starting the end of February four paintings go on display at CODA Gallery located on Broome Street in the SOHO district of New York City. Click here for CODA Gallery information.
I've added four new works to the site, three of these are now at the Brad Cooper Gallery. Also a new linocut print based on "Murder of Crows" is available.
Tracey Flocked by Western Sandpipers (also shown above)
Lucy in the Sky with…
Dana Lost in the Flora
How Many Chickens does it take to make a Roast Chicken?
Murder of Crows (Linocut print)
November 2005 - Two new paintings added and Nutcracker completed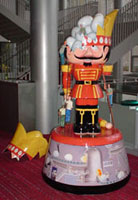 I am proud to state that Ben Bryan and I have completed our Nutcracker "All the kings Men" and it shall go on display at City Centre Mall in downtown Seattle. More information can be found at the Nutcracker March websit or below under the October update.
Links to the two newest painting.
Dana lost in the Lilies
Becky's Garden
October 2005 - New linocut print and PNB Nutcracker Commission
New Linocut Print completed and added to the prints gallery. Click here to view the new print "Black-Eyed Susan"
"Pacific Northwest Ballet Nutcracker March" similar to the "Ponies on Parade"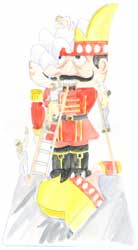 commission (scroll to bottom) from last year, however instead of ponies Ben Bryan and I will transform a fiberglass replica of a Nutcracker into a work of art titled "All the Kings Men". The entire project will feature 60 Nutcrackers with individual themes created by 60 plus artists and placed on public display in various outdoor locations throughout Downtown Seattle. Upon completion of the event in late December, the Nutcrackers will be donated to and benefit Northwest Center. Our Nutcracker is sponsored by City Centre an upscale shopping mall in downtown Seattle. Playing on the humpty dumpty motif the nutcracker will be in a state of repair with workers on ladders hammering, setting and managing the repair of the king. A section of the king will be cut away to appear broken and will be filled with "eggs", one of which will be hatching out a new worker. This is ripe for metaphors, such as mankind builds there own kingdom, birth of a nation or the building of the political machine.

September 2005 -Two group shows on display and new linocut print
As part of Hispanic Heritage Month I have been invited to display work in two shows.
Nordstrom's hosts Love Now / El Amor Ahora, showcasing the diverse artwork of Hispanic artists. The show is on view at select Nordstrom stores and the online gallery through October 16th. To view the art and for more information click below: http://about.nordstrom.com/promos/hispanic_heritage_month.asp
City of Seattle Office of Cultural Affairs: ARTE PARA TODOS/ART FOR ALL This show sponsored by the Latino City Employees and runs from September 16 - October 14, 2005 in Seattle City Hall lobby on 5th Avenue between Cherry & James Streets. The three paintings displayed are Dana with Humingbirds & Columbines, Wisteria in-depth and Death & Resurection of Frida.
New Linocut Print completed and the "prints gallery" has been revamped. Click here to view the new print "Zabel Eryngo"
August 2005 - Four new paintings added to website
To view either go to the gallery link or listed below are the links to the newest paintings.
Dana in Cherry Blossoms
Dana with Humingbirds & Columbines
Yula in Bouquet of Sea Mallow
Yula in Profile with Lilies
July 2005 - Isis Gallery, Seattle Washington
I'm pleased to announce my exhibition titled "Garden Delights" on view at the Isis Gallery for the month of July. Fourteen works from my "Seductions of Nature" series will on display running from July 1st through the 31st with a reception Thursday July 7th - 5 to 8 pm. View Invite
Isis Gallery on First
100 First Avenue - Seattle WA 98040 (map)
2 blocks south of Seattle Art Museum
206- 628-9424
May 2005 - Update to website and Completion of the Mural for the Great Ape Trust
Well I finally updated my site! This design change should make it easier to view images and add new images on a consistent basis, not just yearly. Please check out the new work posted in the 04-05 gallery.
From April 15th through April 30 I was in Des Moines, Iowa working on a mural for the Great Ape Trust of Iowa. Images and brief notes from the experience have been posted in the 04-05 Gallery (go directly to mural page click here). Additional information regarding the murals concepts regarding languages and communication will be added latter in May.
April 2005 - Great Ape Trust mural
Been busy and haven't been able to update the site & Late in March I was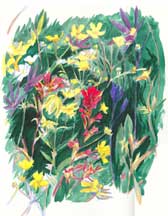 commissioned to create a wall mural for The Great Ape Trust of Iowa. Please check out their site to see this incredible scientific language foundation and sanctuary for apes. www.greatapetrust.com The mural is an Iowa woodlands scene, representing the ape's new habitat, with apparitions of the apes appearing within this space. This symbolism of "there or not", "seen or not", almost ephemeral creatures in the forest fits Great Apes Trust's mission and the status of Apes in the wild. They are physically small compared with the whole woods. I'll post images once the project is completed. Also, I hope to post all of the 2004 painting upon my return.